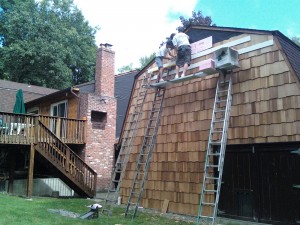 Painting the Exterior of Your Home – A fresh coat of house paint may be your last chance to protect the exterior of your home from moisture and impending wood rot that often takes place in our tough seasons. Failing to take the necessary steps to protect your home can be very costly. If a home goes unpainted through the seasons you may end up with extensive wood damage thatould cost thousands to repair. The easiest way to prevent this is with a fresh coat of paint before winter weather sets in. A good paint job with quality paints could protect the exterior of your home for ten years or longer.
Steps for Exterior Painting

Power Sanding – Best on flat surface, can be easier, faster and creates less mess.  Concerns with Power Sanding for Lead-Based paints and care of decorative details.  A-Lazslo Painting is EPA certified contractor for Lead-Inspection and Removal.

Paint Removal – Typically requires a chemical wash and manual scraping of the old paint.  Often the only way to remove Oil-Based paints or highly detailed Victorian decorations.

Exterior painting:
We start with power washing the house, to get read of dust, dirt and mildew
Any pealing paint is scraped off and the edges are feathered in with sandpaper or sanders
Holes are filled with exterior putty, cracks and gaps are caulked,
Bare wood and all needed areas are primed,
Paint is applied with brush, roller and spray
All areas where we are working are covered with drop clothes